Building a nomination form with Screendoor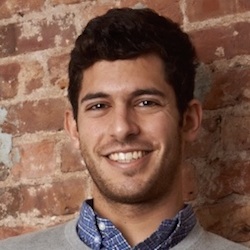 Recently, a client asked us how to build a "nomination form" inside of Screendoor. In this instance, the client was running a fellowship program and wanted to allow members of the public to nominate potential fellows. Nominees would receive an email informing them that they had been nominated, and asking them if they would like to apply.
We responded, detailing how this could easily be built by using our integration with Zapier. We liked this solution so much that we decided to share it with you, too.
In four quick steps, here's how to set up a nomination workflow for your application process:
1. Create the nomination form
First, create a new project in Screendoor to act as the nomination form. Add fields for the nominee's name and email address, as well as any other questions you wish to collect.
You can set the project's visibility status to "Public" and share the URL far and wide! Go ahead and nominate someone right now — it will help us in the steps below. (You can nominate yourself if you'd like.)
2. Create the application form
Now that you've created your nomination form, it's time to create the actual application form. What fields you add to this form are entirely up to you, but make sure to set the project's visibility status to "Unlisted." This will ensure that, in order to apply, a user will need to know the link to the application form. This is perfect, since you'll send them the link once they've been nominated.
3. Create the email
Next, set up your nomination email with an email service provider supported by Zapier (e.g., Campaign Monitor, SendGrid, Mandrill, or Gmail). Here we'll show you how to set up the email with Campaign Monitor since we already use it to manage our mailing list.
In Campaign Monitor, create a new "Transactional Email" template. Whichever service you use, make sure to include a link to the full application in your message.
4. Create the zap
Finally, create the "zap" that ties it all together. If you haven't done so already, you'll need to follow the steps for getting started with Zapier.
Next, from the Zapier homepage, press the "Create a new Zap" button. As the trigger, select "Screendoor - Response Received," and as the action, select "Campaign Monitor - Send Transactional Email."
When Zapier asks for the project ID, enter the project ID of your nomination form. (To find the project ID, navigate to the Settings page. Under "General settings," click the "Show advanced settings" link.)
For the "To" field, press the "Insert Screendoor Fields" button, and find the field that contains the email address of the person you nominated in the first step.
Finally, you can test and save your zap. You've successfully created a working nomination form without writing a line of code — time to celebrate!
Adam Becker is a co-founder of The Department of Better Technology.
Want more articles like this? Subscribe to our newsletter.