DOBT's Year in Review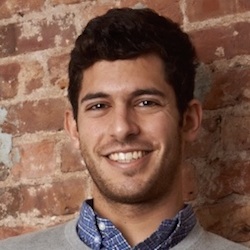 Wow, what a year it's been! The time has flown by, but when looking back on what we've accomplished over the last twelve months, it's truly night and day. Before heading into the new year, we want to share with you some of our proudest moments from 2014:
1. We grew the team
There's a moment in every startup's life when you start to feel like a "real company," and for us, it was when the team expanded to more than just the two of us. It's not an easy choice to join a small, fully-distributed company, and it's humbling as a founder when you find others that share your vision. Aviv Nitsan, Josh Rubenoff, and Josh Goldstein all joined us in 2014, and we couldn't be happier to have them on board.
2. We built Screendoor into a mature product
We've built a lot of software in our short life as a company, but in early 2014 we made the decision to double-down on Screendoor. Collecting and managing information is one of the core functions of government, and we saw the opportunity for our software to make a real impact. In 2014, Screendoor went from a rough beta to a mature, battle-hardened platform. Before, it was barely possible to use Screendoor without some significant hand-holding from our team, but now government agencies we've never even talked to are signing up and using it successfully. We've rolled out an extensive knowledge base, documenting every nook and cranny of the application, and shipped some seriously awesome features like e-signatures, payments, and the ability to integrate with over 300 other apps.
3. We've earned some stunning praise
When our users are happy, we're happy. Here's a few of our favorite Tweets from 2014:
Falling in love w/ Screendoor from @dobtco ...

— Sean Park (@parkparadigm) May 22, 2014
We are using @dobtco's screendoor deployment for our volunteer leadership application. Slick work! http://t.co/cmLcib9SkG #cfabrigade

— BetaNYC (@BetaNYC) September 12, 2014
Fun fact: Screendoor from @dobtco can help make small-vendor procurement easier #cfasummit

— Matt (@_beechnut) September 26, 2014
We've refined how we do call outs. Eg http://t.co/zEtZyMU5G8 - now moving from Google forms to Screendoor by @dobtco - @amzam #socialj

— Andrew Losowsky (@losowsky) September 11, 2014
Every time I suggest a new Screendoor feature to @dobtco, it turns out it already exists. It's a pretty great procurement/hiring platform.

— Waldo Jaquith (@waldojaquith) June 20, 2014
@dobtco @cjoh we were considering building a similar thing to screendoor as our fellowship project but this looks awesome :) well done

— Jeremia Kimelman (@jeremiak) April 2, 2014
4. We've had the pleasure of serving some amazing clients
We talk a lot about government, but we also have the pleasure of serving some truly inspiring non-profits as well. In the past year, we've seen organizations like Code for America and Mozilla OpenNews use Screendoor to manage applications for their respective fellowship programs. We've helped streamline the way they select talent, and that's something that pays real dividends down the road. We're extremely grateful for each and every one of our clients, and we wish we had room to name all of them here.
Looking forward…
We have some exciting developments in store for 2015, and can't wait to share them with you. In the meantime, we're still focused on our core mission: making great software that helps governments and non-profits better serve their communities.
Happy new year from the DOBT team!
Adam Becker is a co-founder of The Department of Better Technology.
Want more articles like this? Subscribe to our newsletter.