Introducing Forms.fm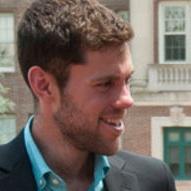 We just released an update that makes your Screendoor forms better than ever. Here's how.
Custom branding
This has been one of our most-requested features, and finally, it's here. Instead of a Screendoor logo at the top of your projects, your organization's own name and logo are front and center. You can also choose a custom color scheme that matches your logo.
A great new domain
Even your new Web address puts your organization first: instead of a https://screendoor.dobt.co address, respondents can now find your projects at your own forms.fm subdomain. (If you're worried about broken links, no fear: we automatically redirect users from your old address to your forms.fm page.)
Improved accessibility
We've worked hard to ensure your forms exceed federal accessibility standards. Project pages and forms have larger font sizes, and we've improved keyboard navigation for individuals with motor impairments. If you select a background color for your theme, we automatically choose a legible text color with sufficient contrast for people who are visually impaired.
Interested in using our forms? We'll convert your first PDF form to Screendoor for free. Email pdfs@dobt.co with a copy of your form attached. Or, sign up for a free trial to try out Screendoor for yourself. Let us know what you think.
Josh Rubenoff is a product designer at The Department of Better Technology.
Want more articles like this? Subscribe to our newsletter.